Latest News
California school shut down after 4-year-old students caught having sex
By Mason White 4:53 PM February 4, 2013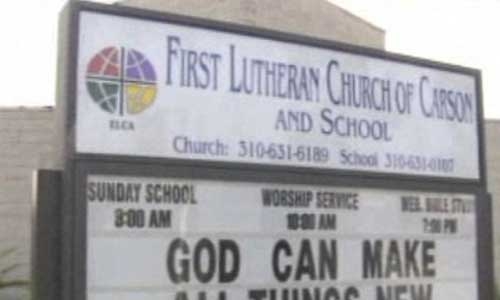 First Lutheran Church of Carson School sign
By: Sarah Weiss
(Scroll down for video) "They are only 4-years-old and they were having sex in school," that were the allegations made against a California school, according to press reports in California.
Now, the California preschool reportedly has been shut down after the disturbing allegations of sexual activity among several of its 4 to 5-year-old students has emerged.
First Lutheran Church of Carson School, was shut down amid reports that two children received oral sex from a girl, who was identified as 5-years-old, in school, according to a local television news station.
Attorney Greg Owen, who represents some of the families of the children, said the sex acts took place during nap time in a schoolyard and an outside bathroom.
"It comes down to a lack of supervision," Owen told the television news station. "There were times when teachers' aides leave the room for hours at a time when they were supposed to look after the children. During nap time, sleep helpers and children have abused each other.
Owen represents several parents who are planning to file a lawsuit against the Carson, California, school, which allegedly has been cited by the California Department of Social Services for at least one sexual incident involving young students.
School officials told the television news station that its decision comes after the school principal resigned for personal reasons which had nothing to do with the allegations.