Latest News
4,500 people do world record Hula Hoop dancing together
By Mason White 6:38 PM February 14, 2013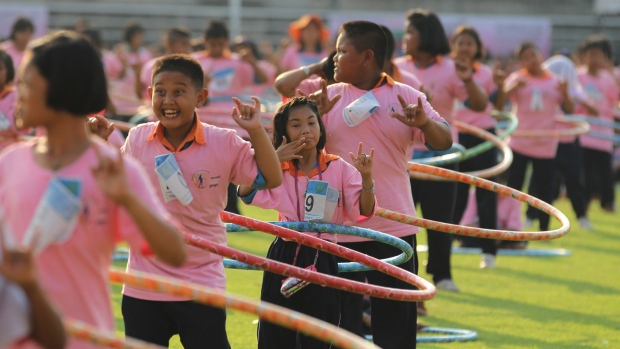 Hula Hoops record in Thailand
By: Debbie Gross
(Scroll down for video) If watching someone doing Hula Hoops for several minutes makes you dizzy what about watching 4,500 doing Hula Hoops together?
About 4,500 participants in Thailand celebrated victory after scoring a world record for the largest number of people dancing with Hula Hoops simultaneously in one place.
Guinness World Records judge, Seyda Subasi-Gemici, said Tuesday that 4483 people had swung Hula Hoops to dance music for seven minutes without interruption.
The event attracted 5,000 participants to an outdoor stadium at Thammasat University, but 517 were dropped of the total after those participants failed to keep their Hula Hoops up.
The event was organized by the Department of Public Health and the Ministry of Health and aimed to create health awareness among Thai citizens.