Latest News
Police officers mistakes Ohio State logo for marijuana leaf
By Mason White 6:12 AM February 19, 2013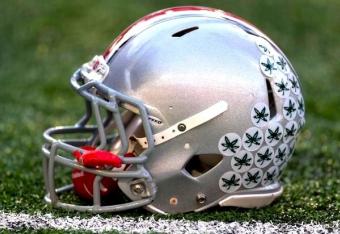 Couple pulled over after displaying this helmetin the back of their car
By: Eva Fett
An elderly couple got the scare of their life after a police officer stopped them for transporting marijuana, according to press reports in Tennessee.
The strange incident began as Bonnie Jonas-Boggioni and her husband, Guido, were heading home to Texas after attending the funeral of his mother, in Columbus, Ohio.
While driving on Interstate 40 in Shelby County, a black SUV pulled up behind their Mustang convertible, with blue lights flashing. Jonas-Boggioni, who is 65-years-old, pulled over to the side of the road in panic.
The police officer began to question the couple about marijuana, according to press reports.
"The police said that they had been notified by an officer outside his jurisdiction," she said. "The officer asked why we had a marijuana on the back of our car," she added. Jonas-Boggioni turned around to look in the back of her car, stunned and wondered if someone had stuck something on there when she was not looking.
What she saw was an Ohio State Buckeyes football helmet, which is traditionally decorated with a leaf to signify success.
"After explaining it to the police officer the situation came to an end and we returned to the road, without any kind of citation," Jonas-Boggioni told a television news station.