Latest News
Hospital sued after banning black nurse from caring for white baby
By Mason White 6:36 AM February 19, 2013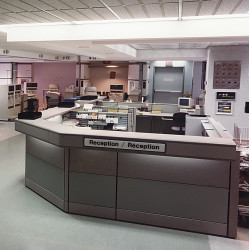 Hospital nurse station
By: Eva Fett
(Scroll down for video) A hospital banned a black nurse from caring for a white newborn baby after the swastika tattooed dad demanded that no black nurses touch his baby, according to a lawsuit filed in a Michigan court.
A nurse from Michigan claims that she was banned from caring for a newborn child because of the color of her skin.
Tonya Battle is suing her employers, the Hurley Medical Center in Flint, Michigan, after they ordered her not to care for the baby in the neonatal intensive care unit at the request of the father.
The lawsuit states: "The father told the head nurse in charge at the time that he did not want his baby to come in contact with African Americans."
The nurse added that during a conversation with her supervisor, the father rolled up his sleeve to reveal a swastika tattoo.
The court documents further state: "She was surprised, hurt and in disbelief that she was so egregiously discriminated against on grounds of race. After the incident she was reassigned."
A local television news station reported that a meeting was held to inform staff members about the new policy in relation to the baby.
When Battle, an employee of the hospital since 1988, returned to work, she saw a note in the patient's file saying: "No African American nurse to care for the baby."