Latest News
13,000 boxes of Girl Scout cookies trashed by tractor
By Mason White 10:24 AM February 21, 2013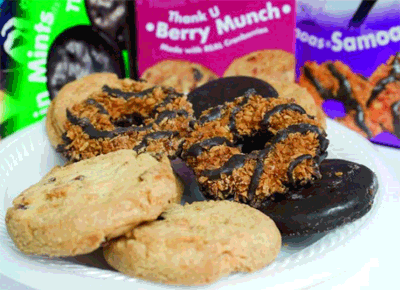 Girl scouts cookies
By: Moses Gold
(Scroll down for video) Girls were devastated to learn that their cookies were being destroyed by tractors.
Officials in Riverside, California, were shocked when they saw the video of over 13,000 boxes of perfectly good Girl Scout cookies being run over by tractors and were destroyed.
All the cookies were still fresh, with an expiration date still months away.
These cookies were destroyed after they were unsold by the girls and returned to the ABC bakery where they were bought. The ABC bakery destroyed the cookies.
Homeless shelters and food bank organizers, were also disappointed to find out that more than 13,000 boxes of Girl Scout cookies were crushed rather than given away to the needy.
One person recorded the video of two tractors crushing the cookies before they were sent to a landfill. In the video, a worker can be heard laughing and saying, "Goodbye, Girl Scout Cookies!"
A representative of the Girl Scouts of America, whose headquarters are in New York, said that there is no national policy on what to do with unsold cookies, adding that "it's a shame" what happened in Riverside.
Council vice president of San Gorgonio Girl Scouts, Chuck Mackinnon, said he had no idea this was going on. "It is waste of food," he said as he placed the blame on the ABC bakery.
Mackinnon said that the Girl Scouts can return one percent of the unused cookies to the bakery without paying for them.
The cookies which were destroyed were from the one percent returned to the bakery which was a total of 13,200 boxes of cookies.

Mobile video not loading? Click here to view