Latest News
Boy, 2, finds knife in his birthday cake purchased at Walmart
By Mason White 6:34 PM March 13, 2013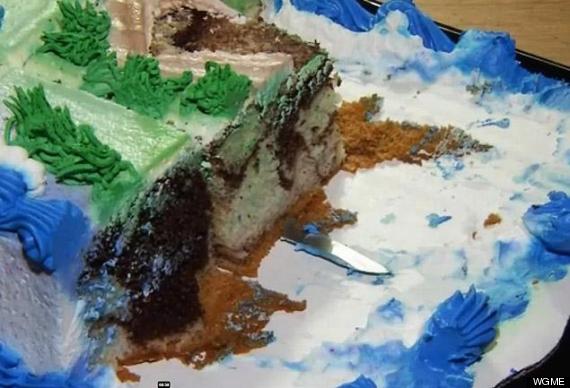 Knife inside Walmart birthday cake
By: Sarah Weiss
(Scroll down for video) A little toddler was happy to receive his very own birthday cake.
However, because of the cake, his second birthday was almost his last.
Cayden Bibeau, 2, was shocked and surprised when he found a kitchen knife stuck inside his Elmo-themed birthday cake this weekend. His father was very angry. Nathan Bibeau said that the party of his son's birthday was canceled after the family found the knife that was left inside the cake by an employee of Walmart, where the cake was purchased.
The Lewiston, Maine family found the knife, as Bibeau said he was "disappointed and upset" at Walmart, according to a local New York newspaper and his family left their son's party early because of the finding.
Bibeau caused a sensation when he published photos of the cake on the internet thereby quickly receiving an apology from Walmart
Bibeau said that he still plans to buy stuff at Walmart.Mobile video not loading? Click here to view