Latest News
Miss Israel 2013 enjoys dinner with President Obama
By Mason White 4:04 AM March 24, 2013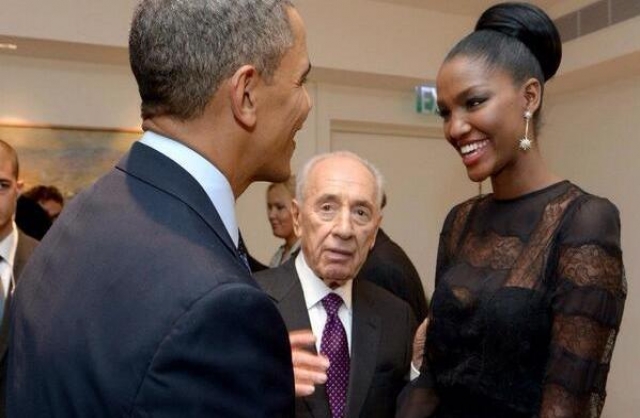 Miss Israel 2013 Yityish Aynaw
By: Shifra Unger
(Scroll down for video) Just weeks after being crowned Miss Israel 2013, Yityish Aynaw, had dinner with U.S. President Barack Obama, during his visit to Israel last week, according to press reports.
As hundreds and maybe even thousands of Israelis were waiting for an invitation to listen to the speech of Barack Obama at the Jerusalem International Convention Center, the lucky young woman was invited to dinner with the president.
Organizers of Obama's upcoming visit to Israel have included the new Miss Israel, who was born in Ethiopia on the exclusive guest list for the dinner that was hosted by President Shimon Peres to honor the U.S. president. "I had butterflies in my stomach," the beauty queen, 22, said.
As Obama's task force arrived in the country to organize the visit and began searching for the new Miss Israel. On Monday, the task force team contacted Ethiopian-born activists and asked them for help in contacting the Miss Israel after reading about her history.
The connection was finally established on Tuesday, and Obama's team invited her to participate in the festive meal that was held Thursday at the presidential residence in Jerusalem.
Only 120 people have been invited to the event, including the Prime Minister, the Chief of Staff and Chairman of the Knesset. While dining with the president of the United States, the first Ethiopian-born Israeli beauty queen had the opportunity to share her story with him.Mobile video not loading? Click here to view