Latest News
New York dog caught on video viciously attacking little girl
By Mason White 6:10 AM March 15, 2013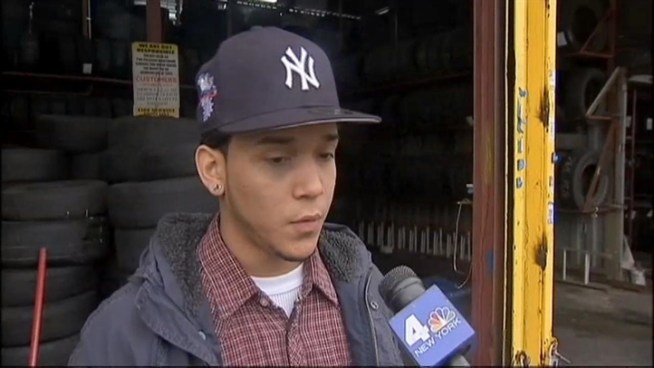 Eduardo Candelier helped pull the dog off the girl
By: Moses Gold
(Scroll down for video) A surveillance camera captured the shocking moments when a violent dog attacked an innocent little girl walking with her grandmother in the Bronx section of New York, according to video uploaded to the internet.
The girl who is only 6-years-old, was attacked by a dog while walking down a sidewalk in the Bronx, Sunday afternoon. The entire violent assault along with the rescue was captured on video surveillance.
The girl and her grandmother were walking down Webster Avenue, when the dog bolted toward her from the other side of the street, attacked her and threw her around the sidewalk, the video showed.
Witness Eduardo Candelier, who works at a tire shop nearby, ran to the dog in order to pull it away from the girl.
"The dog was biting her," Candelier said. "She was crying, while I was freaking out," he added.
Nobody realized that the attack was caught on video until the owner of the tire shop, Fred Paulino, looked the video up on Monday.
"You can see that the dog running around with the girl in its mouth," Paulino said.
The girl was taken to a hospital and treated for minor injuries, including small puncture wounds on her right arm and right leg. She was treated and released.
The dog's owner, who lives near where the girl was attacked, stayed at the scene, police said.