Latest News
Man kills his grandmother because angel Michael told him so
By Mason White 9:56 AM March 15, 2013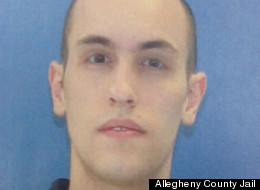 Levi Daniel Staver
By: Eva Fett
(Scroll down for video) A man was arrested and charged with murder related charges after killing his grandmother because God's angel told him to do so, according to police reports in Pennsylvania.
Police in Richland Township, Pennsylvania, said that the 26-year-old man killed his grandmother while she ate breakfast, then claimed that Archangel Michael, told him to do so.
Connie Johnston, 76, was having breakfast with her husband, the Reverend David Johnston, on Tuesday morning, when his grandson, Levi Daniel Staver allegedly approached her from behind and fatally stabbed her in the back with a knife.
Authorities said that Staver, who lived in the house, later told them he was sitting at the computer in his bedroom when the Archangel Michael led him to kill the witch.
Staver also allegedly told authorities that before the stabbing, he made ​​the sign of the cross, dressed as a soldier, grabbed the knife and said, "This has to go."
After the incident, Staver got into a fight with his grandfather, who pushed Staver outside the house where he was arrested by police, according to a local newspaper.
Staver was charged with criminal homicide. Officials told the press that the family had previously had concerns about the mental health of the suspect. Officials also said they have been called to the family home in the past, but did not say why.Mobile video not loading? Click here to view