Latest News
Man steals his father's police car and leads police on high speed chase
By Mason White 6:13 AM March 17, 2013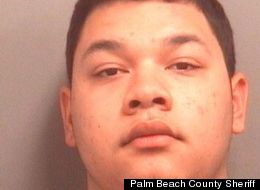 Eric Rawdon
By: Eva Fett
(Scroll down for video) A man with a stolen police car led police on a high speed police chase after stealing his father's police car, according to police reports in Florida.
The Florida teenager allegedly stole his father's car and police went after him on a high-speed chase. Too bad that his father is a sheriff's deputy and the car he stole was a cruiser from the Palm Beach County Sheriff.
Eric Rawdon, 19, is accused of taking the Crown Victoria police cruiser on a 120 miles per hour ride through Jupiter before destroying it, after the real police officers started chasing him, a local Florida newspaper reported.
Officers of the Florida Highway Patrol were called at 11:00 pm Monday to reports that Rawdon was in his father's patrol car. It was not clear how or why he had access to the cruiser, but was allegedly able to elude police as he weaved through traffic.
He later crashed into a median, where he was arrested. No one was injured.
He faces charges of reckless driving, eluding law enforcement at high speed, and grand theft auto.
His father, Kevin Rawdon, has worked for the sheriff's office since 2001.