Latest News
12 arrested after attempting to blow up synagogues in Turkey
By Mason White 2:13 PM April 12, 2013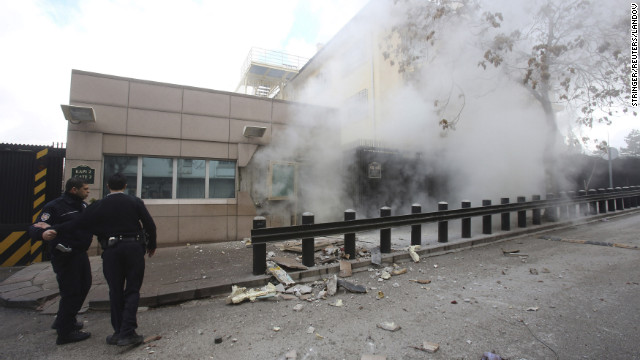 U.S. embassy bombed in Turkey
By: David Ross
(Scroll down for video) 12 men were arrested and charged with terror related charges after attempting to blow up Jewish synagogues and the U.S. embassy, according to police reports in Turkey.
Turkish police also seized nearly 50 pounds of explosives in connection with what they believe was a bomb plot against the U.S. embassy in Ankara.
The arrests were part of the attacks in Istanbul and Tekirdag several months ago.
The plot was allegedly planned by an al-Qaeda cell operating inside Turkey, police said. The terror members were trained in Afghanistan, but came into Turkey from Chechnya and Azerbaijan.
Besides explosives, police also seized 10 firearms and six computers.
Police officials had alerted the U.S. embassy about a possible threat, and issued a travel warning.
"The Jewish community needs to be on the lookout and report any suspicious activities immediately to authorities. It is an ongoing war," Jose Lutz, 40, an expert on Middle East policy told YourJewishNews.com.
The U.S. embassy in Ankara was the target of a suicide bombing several months ago that killed a Turkish security guard. A radical Marxist armed and anti-United States group, the Revolutionary Liberation Front, claimed responsibility for the attack. The U.S. and the European Union blacklisted the group as a terrorist organization.Mobile video not loading? Click here to view