Latest News
Gay man arrested at hospital after refusing to leave sick partner's bed
By Mason White 6:38 PM April 16, 2013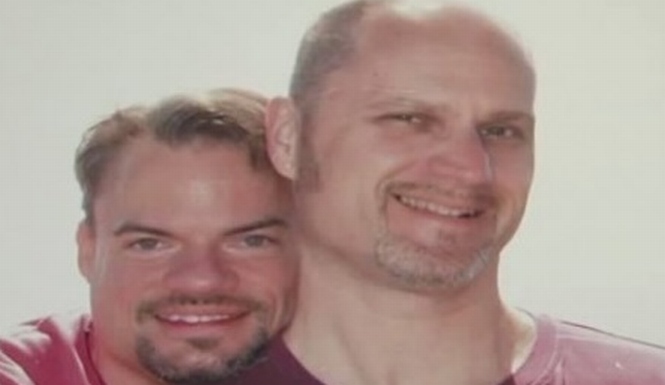 Roger Gorley and his partner
By: John Roberts
(Scroll down for video) A man was arrested and charged with trespassing related charges after he refused to leave his sick partner alone at the hospital, according to police reports in Missouri.
The Lee Summit, Missouri man is angry that the hospital staff ordered him off hospital property and police arrested him after he refused to leave his sick partner behind.
Roger Gorley went to visit his partner, Allen, in the Medical Research Center, located at 2316 East Meyer Boulevard, Tuesday afternoon.
He said that when he got there, a member of the Allen family asked him to leave.
When Gorley refused, the police pulled him off of the property and put him in handcuffs.
"I was not given the same rights as a husband," Gorley said.
While they are not legally recognized as a couple in Missouri, Gorley said that he and his partner Allen have been in a civil union for nearly five years, and make medical decisions for themselves.
According to the arrest report from Kansas City, Missouri police, a security supervisor of the Medical Research Center was contacted by the staff of the emergency room after Gorley refused to leave the room of his partner. The hospital said they did not want to have any visitors inside Allen's room.
Gorley was told to leave by the nurses and security, but he declined, the police report said.
"After several verbal attempts to get Gorley to leave the room, he continually refused and began to cause a disturbance," the report said. "He began to cause a disturbance and physically resist security officers as they escorted him out of the patient's room," the report continued.
Arrest papers said that Gorley was placed in handcuffs after a brief fight with hospital security.
"It is a sad situation for Gorely and his sick partner.
He should have been allowed to stay with his partner just like any ordinary couple. The hospital staff acted in a very insensitive way," Michelle Bland, 31, of Kansas City, Missouri told YourJewishNews.com after learning about Gorley.
When police arrived, the hospital security officials said they wanted Gorley arrested for trespassing and disorderly conduct. He was then taken to the police station to be booked, the documents showed.Mobile video not loading? Click here to view