Latest News
6-year-old girl detained because parents brought her late to school
By Mason White 5:20 AM April 21, 2013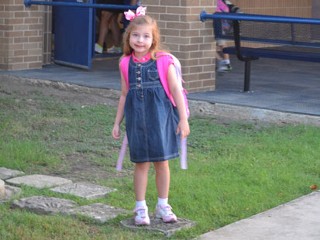 Brooke Loeffler
By: Eva Fett
(Scroll down for video) A little girl was detained for two days not because something bad she has done at school rather because her parents brought her late, according to press reports in Texas.
When Brooke Loeffler's parents brought her late to the San Antonio area school on several occasions, it was the student who took the fall.
Brooke is just 6-years-old.
The girl, who attends the Olympia Elementary School, spent two days in detention during lunchtime, by herself, against a wall, as school policy dictates.
Although Brooke received the punishment, it was her father who was behaving badly. He even sat down with Brooke during one of her lunch detentions.
"It was my responsibility to prepare her and bring her to school," her father told a local television news station. He added, "I failed that responsibility for a couple of days," he added.
The reason for the delays: Brooke's parents have a new baby in the house, and the family is adjusting to the new routine.
Brooke's family would like to see the Olympia policy changed to punish the parents, not the children. We're betting Brooke would agree with that idea.
Brooke's father told the local television news station: "I said sorry and that it was not going to happen again," the father said.
"It is not fair that little children have to suffer because their parents did something bad. The school policy needs to change immediately," Janet Baker, 43, of Arlington, Texas told YourJewishNews.com afer hearing about the punishment.
However not everyone agreed with Baker.
"If parents get the message that their little children will face harsh punishments they will do every effort to bring their children to school on time. Coming late to school is extremely disruptive to the class," Heather Clark, 36, a teacher in Houston, Texas told YourJewishNews.com.