Latest News
Girl creates cute wedding dress from divorce court papers
By Mason White 5:16 AM April 28, 2013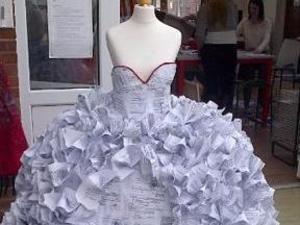 Divorce papers wedding dress
By: Eva Fett
When filing for divorce not too many people have their next wedding day in mind.
However, one art student has made an entire wedding dress ​​with divorce court papers, according to photos uploaded to the internet.
The strapless dress was produced by a 15-year-old as part of her GCSE assessment.
The amazing artist created a curl effect dress with the court documents, and was then published by the student's friend on a popular social media website, recently.
"I don't think anyone associates divorce papers with a wedding dress. This young artist should be awarded for creativity just for linking divorce court papers with a wedding dress," Barbie Cardona, 19, of Wichita, Kansas told YourJewishNews.com after seeing the dress.
This is not the first time a special occasion dress was made from a usual household staple.
A Kansas teen created her own party dress made entirely out of duct tape.
17-year-old Brooke Wallace, from Solomon put together a Western-style dress and a suit for her date with 42 rolls of duct tape. She was awarded for her effort by being nominated for a spot at a national contest sponsored by Duck Tape design.
The wild girl spent more than 200 hours working on the design.
Wallace also made matching accessories from the tape, creating a bag and earrings for herself, and a bolo tie, bow, gun and holster for her date, Mark Aylward.
The pair could win $5000 for their school and a scholarship of $5,000 for them if they were to win the competition.