Latest News
Elderly man arrested after taking too many free food samples from supermarket
By Mason White 3:43 PM April 23, 2013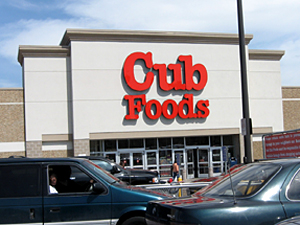 Cub Foods illustration
By: Moses Gold
(Scroll down for video) An elderly man is suing after he was arrested for taking too many free meat samples from a supermarket.
Erwin Lingitz, 68, of Gem Lake, Minnesota, went to the Cub Foods near his home to pick up a prescription.
While at the store, Lingitz took free meat samples and headed out the door. The security guard thought that man had shoplifted and ordered the man to empty his pocket, but the elderly man refused.
The guard called police. Lingitz was found in possession of one and a half pounds of free meat samples, which included a dozen soy sauce packets, over half a pound of summer sausage, and almost a pound of beef stick, according to the supermarket spokesperson.
Lingitz was allegedly jumped, kicked and beaten by three officers of Ramsey County and by the Cub Foods security guard after he tried to leave the grocery store with the free samples of food.
"There are laws in place to protect elderly people from abuse. If this man was roughed up as he claims, then the people involved should be charged with elder abuse on a man older than 65, just as they would charge a citizen who abuses an elderly man," Patricia Davis, 46, of Saint Paul, Minnesota told yourJewishNews.com.
Now, Lingitz is suing over the incident.
The suit names 9 defendants: Ramsey County, the county Sheriff's Office, three deputies, the guard, the guard's employer, Twin City Lawmen Inc., and Supervalu Inc., which owns Cub Foods.