Latest News
Glenn Beck under fire after depicting Mayor Bloomberg in Nazi salute
By Mason White 5:01 PM May 7, 2013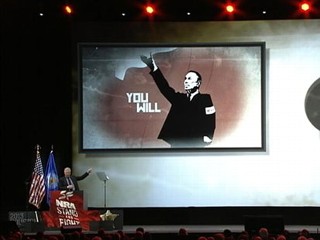 Apparent Nazi salute during Glenn Beck speech
By: Sarah Weiss
(Scroll down for video) Glenn Beck came under extreme criticism today after he depicted the New York City mayor giving a Nazi salute, according to video uploaded to the internet.
Glenn Beck spoke at the annual convention of the National Rifle Association this weekend in which he attacked New York City Mayor Michael Bloomberg.
The director of the Anti-Defamation League labeled Beck's comments as deeply offensive on many levels and B'nai Brit asked Beck to apologize.
"Glenn Beck, the keynote speaker at the annual convention of the NRA, trivializes the Holocaust when comparing New York Mayor Michael Bloomberg to Adolf Hitler," B'nai Brit said in a statement. "His use of Nazi images and Nazi words serves to undermine the Nazi Holocaust atrocities. Glenn Beck should apologize," the statement continued.
In his nearly two-hour speech on Saturday night, Beck compared the mayor to a Nazi for his campaigns to limit the size of sugary drinks, salt intake, alter cigarette labels, and gun control.
Beck then showed a massive new logo for the City of New York to the thousands of attendees and showed Bloomberg giving the Nazi salute with what appeared to be a Nazi armband on his sleeve.
Abraham Foxman, a Holocaust survivor and the national director of the Anti-Defamation League objected to the image and Beck's comments.
"Glenn Beck is known to be a strong supporter of Israel and a fighter for Jewish issues. He was in fact the only media personality who devoted an entire show to talk about the murder of an entire Jewish settler family in Itamar, an Israeli controlled city in the West Bank. I think the criticism against Beck is unjustified," Chaim Lazar, 57, of Brooklyn, New York told YourJewishNews.com after learning about the Beck Bloomberg Nazi salute.
"Glenn Beck should know better. He has drawn similar inappropriate analogies to the Holocaust before. We would like him to stop trivializing the Holocaust story, which he does in order to score partisan political points," Foxman said.Mobile video not loading? Click here to view