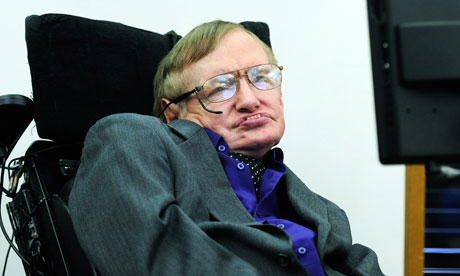 British professor Stephen Hawking
By:
David Ross
A British professor was caught red handed with Israeli products after calling for a boycott against Israel, according to a statement released by an International human rights organization.

"Hawking's decision to join the boycott of Israel is quite hypocritical for an individual who prides himself on his own intellectual accomplishment. His whole computer-based communication system runs on a chip designed by Israel's Intel team. I suggest that if he truly wants to pull out of Israel he should also pull out his Intel Core i7 from his tablet" – this according to Nitsana Darshan-Leitner, director of Shurat HaDin – Israel Law Center.

On Wednesday it was revealed that British professor Stephen Hawking decided to support the academic boycott of Israel and pull out of the upcoming Israeli president's conference in Jerusalem. The fifth annual president's conference, Facing Tomorrow, features international personalities and attracts thousands of participants.

Darshan-Leitner: "He calls it an independent decision based on the unanimous advice of his own academic contacts here. I propose he first seek the advice of Intel engineers working here. He seems to have no understanding of this world."

Since 1997, Hawking's computer-based system has been sponsored and provided by Intel. His latest computer is based on an Intel Core i7 Processor. The Core micro architecture was designed by Israel's Intel team that previously designed the Pentium M mobile processor.

The first mobile processor that used the Israeli designed chip was code named "Merom." Merom is the Hebrew word for a higher plane of existence or a level of heaven, and was a name chosen by the team in Haifa, Israel.

Shurat HaDin – Israel Law Center is an Israel-based organization dedicated to enforcing basic human rights through the legal system and represents victims of terrorism in courtrooms around the world. Its clients include American, European, and Israeli citizens. It is unaffiliated with any political party or governmental body.