Latest News
Man high on drugs steals police car and breaks into home
By Mason White 11:37 AM June 11, 2013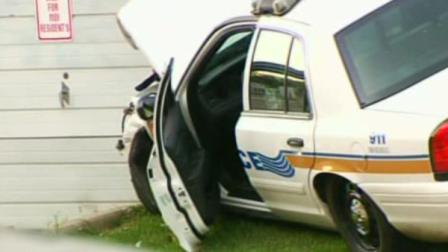 Crashed Pennsylvania police car illustration
By: John Roberts
(Scroll down for video) A man was arrested and charged with numerous charges after stealing a police cruiser and breaking into a home, according to a statement released by police in Pennsylvania.
Police in Pennsylvania said they believe the man to have acted under the influence of drugs when he stole the police car and broke into the house while trying to escape.
The Pennsylvania State Police, police from Jackson Township and police from Borough Vintondale said they arrived at the scene in the Nanty Glo neighborhood on Saturday after receiving a report of a suspicious person.
Investigators said that Anthony Joseph Fox, 26, appeared to be under the influence of drugs, and was found in possession of drug paraphernalia. He was handcuffed and placed in the back of a state police car, but was somehow able to free his hands and make his way to the front seat of the car, police said.
Fox allegedly drove the car to Jackson Township, where he crashed the patrol car and fled on foot.
The suspect then forced his way into a nearby residence, where he was captured by officers.
Fox was charged with burglary, fleeing police, possession of drug paraphernalia, driving under the influence, theft, burglary, resisting arrest, aggravated assault, escape and simple assault. He was taken to the Cambria County Prison.Mobile video not loading? Click here to view