Latest News
Entire police team shows up to investigate fake severed hand found on street
By Mason White 5:22 AM June 12, 2013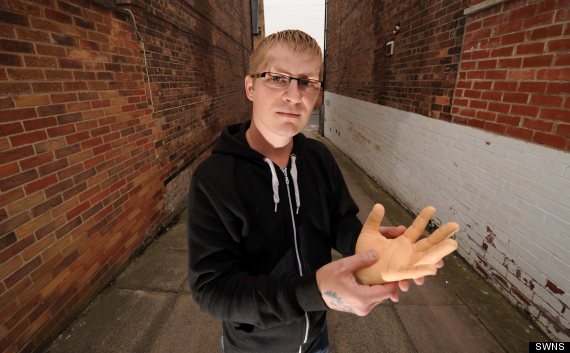 Patrick Plummer with fake hand
By: Ryan Lee Hall
(Scroll down for video) An entire police team showed up at the scene of a prank gone wrong when a passerby called police to the site of a severed hand that turned out to be fake, according to police reports in England.
British police said that what looked like a severed hand found outside the residence was just a joke that had not been cleaned up properly.
Nottinghamshire Police said a forensic team was sent to the Nottingham, England, neighborhood Thursday after a report came in of a severed hand with a severed finger on a sidewalk.
However, the police team soon found out that the hand was a fake created by amateur makeup artist Patrick Plummer, 34, who makes props for theater groups.
Plummer told police that the hand was a joke to scare his niece for her 15th birthday. Apparently, the severed hand had fallen out of his case after it served its purpose. The party guests then moved inside the house to have some cake.
A spokesperson for Nottinghamshire Police said police laughed when they heard the facts of the incident.
"When officers arrived, a man, understandably red-faced, said that he was responsible for the bad joke," the spokesperson said. "Instead of pointing fingers, we told the man what to do. The man quickly removed the hand and finger, and apologized profusely," the spokesperson added.Mobile video not loading? Click here to view