Latest News
Man tries to kill wife only to break own neck instead
By Mason White 5:07 AM June 19, 2013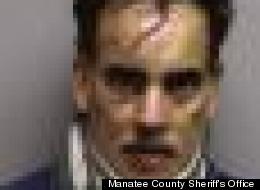 Steven Pinel
By: Moses Gold
A man was arrested and charged with attempted murder related charges after trying to kill his wife before breaking his own neck, according to police reports in Florida.
The man allegedly tried to kill his sleeping wife Friday, but only managed to break his own neck.
Steven Pinel, 49, allegedly shot his wife in the face around 11:49 pm in her sleep at his home in Bradenton. Luckily, the gun malfunctioned, Police Chief Michael Radzilowski said.
Radzilowski said that there was a problem with the gun and Pinel could not continue shooting. His wife was able to escape.
Pinel, wearing only underwear, also fled the scene. Police said he later crashed his car into a ditch, breaking his neck in the process.
He also allegedly tried to hijack a car of someone who stopped to help him, but could not because the woman refused to give him the car keys and left, a spokesperson for Manatee County Sheriff said.
He was arrested later that night and charged with attempted murder, domestic assault and auto theft, according to the Sheriff's Office of Manatee County.
His wife suffered non life threatening injuries.