Latest News
Retirement home guard kills elderly because he 'wanted to end their suffering'
By Mason White 4:55 AM June 20, 2013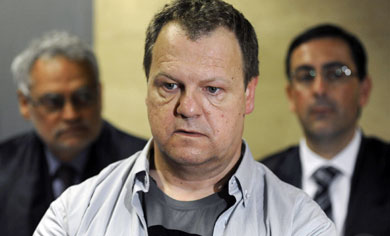 Joan Vila Dilme
By: David Ross
A man was arrested, charged and convicted of killing elderly residents at a retirement home because he "wanted to end their suffering."
The man, who worked as a security guard at a Spanish retirement home, has been convicted of killing 11 elderly residents, three of which he forced to drink bleach.
Prosecutors are seeking a prison sentence of 194 years after Joan Vila Dilme, also known as "the Angel of Death", was found guilty by a unanimous jury at a court hearing in the northeastern city of Girona in Spain.
The man will be sentence at a later date.
The 45-year-old, who used to work at the La Caritat home in Olot, in the Catalonia region of Spain, was arrested in October 2010 after the death of a woman, 85, at a local hospital.
He later confessed to the murder, saying he forced her to drink bleach.
He also admitted to killing two other elderly, he said he carried out in order to "put an end to their suffering."
Another eight murders were committed between August 2009 and October 2010. The additional murderers later came to light after an investigation uncovered that the victims were given an overdose of insulin along with a fatal dose of pharmaceutical cocktails.
The case has aroused strong emotions in the country.
The defense attorney said his client suffered mental problems, but the jury did not buy the excuse.