Latest News
Father of Adolf Hitler announces that he is having another child, will name baby Eva Braun or Rommel
By Mason White 6:27 PM June 23, 2013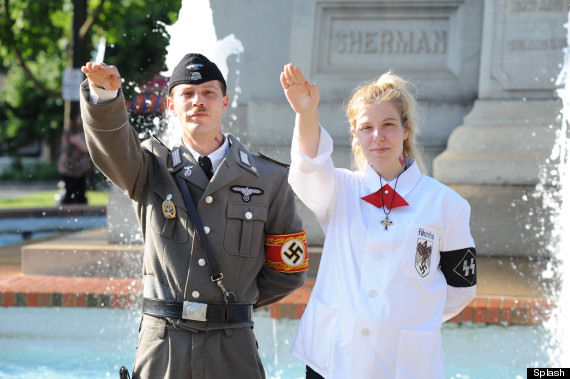 Heath Campbell and Bethanie Rose Zito
By: David Ross
(Scroll down for video) The father, who lost custody of his children after naming them after Nazi leaders, announced that his fiance is pregnant, and that he is planning to name the child Eva Braun or Rommel, according to video uploaded to the internet.
Nazi Heath Campbell, who proposed to Bethanie Rose Zito, 22, on Monday, is fighting for visitation rights to see his youngest son, Hons.
The new baby will be the fifth child of the 40-year-old Holocaust denier, who lives in New Jersey.
Zito, who has a tattoo that says "Property of Heath" said: "If it's a girl, she will be named Eva Braun. If it's a boy, I do not know what I am going to name him, but I'm thinking Rommel."
Campbell's previous four children with former wife Deborah are Adolf Hitler Campbell, 7, JoyCeLyNn Aryan Nation Campbell, 6, Honzlynn Jeannie Campbell, 5, and Heinrich Hons Campbell, 18 months.
The older three children were taken into state custody in 2009, after a store refused to decorate a birthday cake with the name of his eldest son, Adolf. His youngest son, Hons, has been taken into state custody hours after his birth in November 2011.
The future father said he has plans in place to ensure that the State does not interfere when his new child is born, saying: "There is no way in the world they are going to find out where this child is."
In the video below you can see Heath Campbell proposing to his girlfriend Bethanie Rose Zito.Mobile video not loading? Click here to view