Latest News
4 arrested after forcing woman to eat bug, gluing her mouth shut
By Mason White 4:51 AM June 27, 2013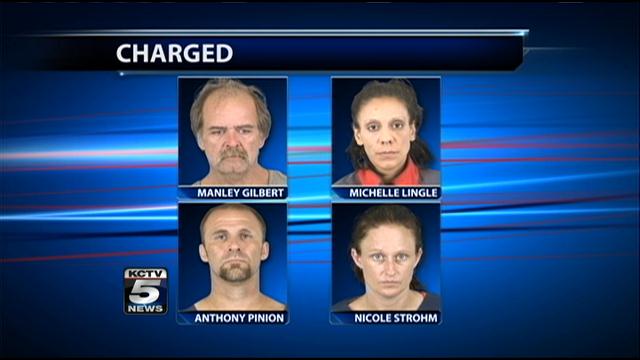 The four who were charged
By: Eva Fett
(Scroll down for video) Four people were arrested and charged with assault related charges after torturing a woman, according to police reports in Missouri.
Police said that four people are accused of participating in a plan, which imprisoned a woman, beat her, made her eat an insect and then super glued her mouth shut.
Kansas City police said that this is one of the worst cases of abuse that have ever seen. The experience described in court documents is what people define as torture.
When the victim arrived at the hospital, she was suffering from many injuries.
The 33-year-old woman, who was subjected to torture, was eventually found standing naked in an industrial area of ​​East Bottoms where she hailed a moving vehicle for help.
She said she was dumped there after a night of torture.
The abuse occurred almost a year ago at the home of one of the suspects, which lasted all night, at the hands of two men, two women and a teenage child of a woman.
Four people have been charged in the crime, all were charged with criminal assault and restraint with the exception of 49-year-old Gilbert Manley, who is accused of restraint.
The victim told police that 37-year-old Nicole Strohm assaulted her repeatedly.
Witnesses said they saw the victim's lips glued together, and that the 43-year-old Anthony Pinon made the victim eat an insect.
These witnesses, teenagers 14, 16 and 17-years-old at the time, said they were ordered to make sure that the victim does not escape, according to court documents.
Those familiar with the case said it all stemmed from a dispute over money.