Latest News
Four men arrested after teacher recognizes student, 12, in sex video
By Mason White 12:08 PM June 11, 2013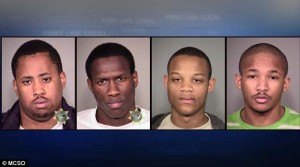 From left: Cedrell Washington, Deshawn Rogers, Terry Scott and Nicholas Clisby
By: John Roberts
(Scroll down for video) A young girl, who was a victim of sexual harassment, will get justice thanks to her teacher.
A group of men are behind bars after they allegedly sexually harassed two underage girls, who they tried to have sex with.
The suspected criminals recorded themselves sexually harassing the girls and then uploaded the video to the internet. The video of the two girls, one of whom is 12-years-old and another who is a seventh grade student, at Centennial High School in Portland, Oregon, found its way to the Facebook pages of many high school students.
The video then went viral on Facebook. When the 12-year-old girl's teacher saw the video, she recognized her student as the victim and reported it to the school principal, who turned it over to authorities.
"It is shocking how many young people boast on social media about crimes they commit. For police and prosecutors, social media has become a useful tool to catch and convict criminals, who post evidence such as video or photos of themselves committing the crime or showing off stolen goods from a crime scene," Tony Blackman, 34, of Salem, Oregon, told YourJewishNews.com after the arrest of the five suspects.
It was not long before the authorities identified the adult men in the video, one of whom is a member of a gang known as the "Unthank Park Hustlers."
The suspects and well-known gangsters have been identified as Nicholas Kelly Clisby, 23, Deshawn Ceville Rogers, 22, Cedrell Lyonell Washington, 20, and Terry Lamar Scott, 18, each of whom now faces multiple felony charges ranging from rape to endangering the welfare of a minor.
Mobile video not loading? Click here to view