Latest News
Boy, 9, forced to perform oral sex on three classmates during school
By Mason White 9:56 AM June 12, 2013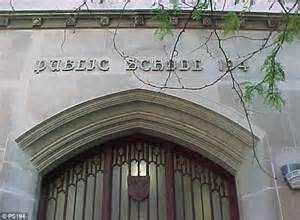 School were the abuse took place
By: Ryan Lee Hall
The New York Department of Education is facing a lawsuit after a boy was forced to perform oral sex on three classmates.
The alleged incident took place at Public School 194 in Harlem, New York. The boy's mother filed a $6 million lawsuit against the New York Department of Education.
Three young boys pushed the 9-year-old into a bathroom a forced the boy to perform oral sex on them.
After the incident, the boy told his teacher that three boys, two of whom are in the third grade, and one who is in fifth grade, forced him into a bathroom stall after lunch. They pushed his knees and forced him to perform oral sex on all three of them, even after he shouted for them to stop.
After the student told his teacher about the assault, she told the school counselor, who then notifies the principal. The principal contacted the mother, but did not contact the police, which she was legally obligated to do.
Both, the boy and his mother, have remained unidentified for safety reasons. Now, the mother is suing the Department of Education for failing to properly take care of a terrible situation that happened in one of the public schools. While the two third grade students were arrested and suspended for five days each, the fifth grader was allowed to leave school and he was later arrested and suspended for 10 days.
This is not the first time the fifth grader was accused of molesting a child in school, yet, he was allowed to continue as a student. A third grade girl accused him of touching her inappropriately during school. He received no disciplinary action after that indictment.
PS 194 has been on the list of persistently dangerous schools in New York since 2011, there have been 11 physical assaults with a weapon and five without a weapon in the 2010 to 2011 academic year.