Latest News
Woman buys 2 parking spots from IRS seized property for $560,000
By Mason White 6:34 PM June 17, 2013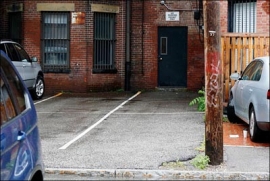 $560,000 parking spots
By: Sarah Weiss
(Scroll down for video) Parking spots can be costly, but paying $560,000 for two parking spaces near your home sounds ridiculous.
When heading home after a day of work, most people don't want to spend a long time driving around looking for parking in their neighborhood.
Parking spots are a precious commodity in many places including Boston, Massachusetts, so much so that one women shelled out $560,000 for two off-street spaces near her home. The IRS auctioned off the two parking spots, which it seized from a man who owed back taxes.
Bidding for the parking spots behind 298 Commonwealth Ave. started at $42,000 and was fiercely contested at auction. Lisa Blumenthal won the spot after she entered the winning bid of $560,000. Blumenthal, who lives in a multi-million dollars house, near the parking spaces, won the auction for both spots after bidding a whopping $560,000.
The parking spots are located in the upscale Back Bay neighborhood in Boston. Blumenthal said she "did not expected the bidding to go so high but it will come in handy."