Latest News
New device lets you drink candy out of toilet bowl
By Mason White 1:42 PM June 20, 2013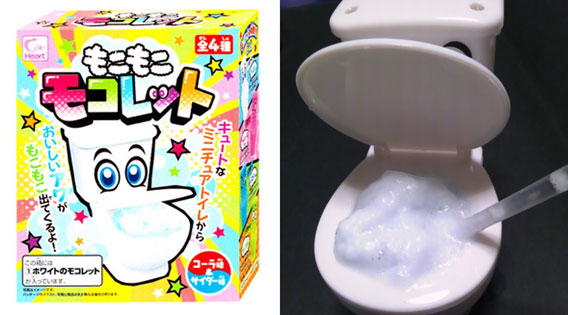 Drink candy out of toilet bowl
By: Ryan Lee Hall
(Scroll down for video) A company came up with a bizarre product that allows you to eat candy out of a toilet bowl.
The company, which is known for their do it yourself miniature products, created a new weird product that may be seen disgusting to some and appetizing to others.
Are you eager to drink from the toilet bowl? Now you can. The Japanese company called Moko Moko Mokoletto released a strange new candy kit. When you order the kit, you will receive a small toilet along with two powder candy packets.
After you assemble the toilet, you add the candy powder to the toilet tank. Then, you add water to the tank and watch the foam rise into the toilet bowl, just as a fast acting cleaner does. The candy will bubble into the toilet bowl where you can drink the "toilet water candy".
In another weird adventure, a toilet-themed restaurant allows diners to sit on toilet seats, and eat on glass-topped sinks as tables. They serve food and drink from mini toilet bowls, sinks, bathtubs and other bathroom furniture. Diners also use toilet paper rolls to wipe their hands and mouth.
Owner Wang Tzi-wei opened the first Modern Toilet outlet in Taipei. After being inspired by a Japanese cartoon featuring restroom images and toilet themes running through the food and drinks menus.
The toilet-themed restaurant has become so popular that Wang Tzi-wei opened additional toilet-themed restaurants. There are now 12 branches all over Taiwan, as well as in Hong Kong and mainland China.
Mobile video not loading? Click here to view