Latest News
Community College teachers prank student on last day of school
By Mason White 10:46 AM June 21, 2013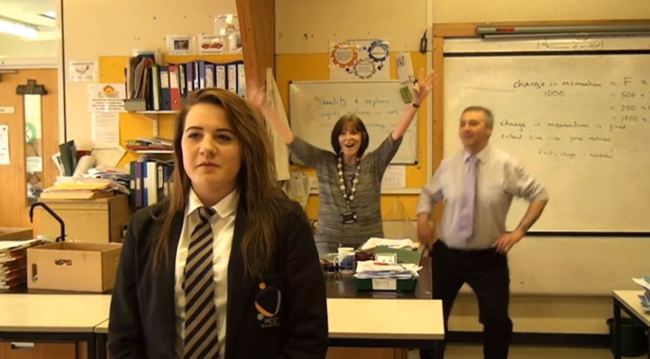 Teachers dancing behind studnet
By: Debbi Gross
(Scroll down for video) Students always look forward to the last day of school when they will finally be free from school work and enjoy the summer.
While last day pranks are usually carried out by students without fear of being reprimanded, this time it was the teachers, who pranked their students.
Students at the Honiton Community College in Devon, United Kingdom, were asked to be interviewed in order to give tips to younger students on how to be successful at the school. While the students thought the interviewer was serious, they gave honest answers and good advice.
What they did not know was that while they were being interviewed, the teachers danced behind them. The teachers were seen by the camera, but they made sure not to be seen by the students. The video shows hip-swinging teachers dancing behind the unsuspecting students as they continue to offer their best advice.
Appearing behind them in classrooms, corridors and outside windows, the dancing teachers dressed up in wigs, and had other props, such as a guitar and homemade signs. When the video was released, the students realized that they had been pranked by their fun-loving teachers.
Mobile video not loading? Click here to view