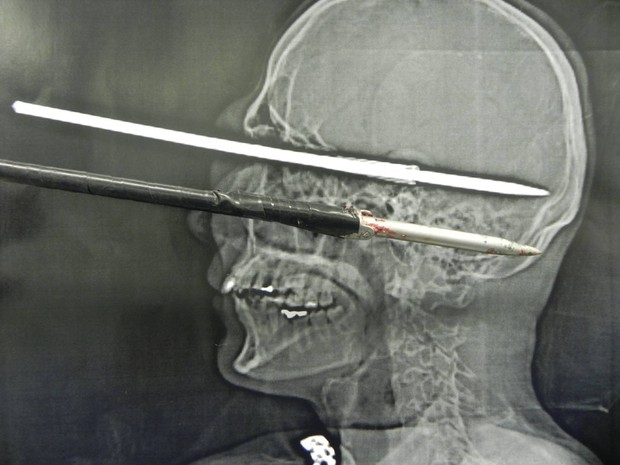 Bruno Barcellos de Souza Coutinho with spear in his head
By:
Moses Gold
A fisherman is lucky to be alive after he accidentally shot himself in the face with a spear, according to press reports in Brazil.

The Brazilian fisherman who accidentally shot a spear through his face, survived with minimal brain damage, and did not even bother to seek medical attention for more than 10 hours after the incident.

Bruno Barcellos de Souza Coutinho, 34, was cleaning his equipment when the gun suddenly discharged, sending a foot-long spear about six inches into his skull, according to officials at Hospital Santa Teresa.

Instead of rushing to the hospital, Souza Coutinho apparently decided to relax at home and let the wounds heal on its own, which led to his aunt calling the fire department.

Souza Coutinho was completely conscious when he arrived at the hospital, despite having the spear piercing in his left eye, crushing his skull and lodging itself in his brain millimeters away from vital arteries. He underwent emergency surgery on Monday and lost sight in his left eye due to the misfortune.

"This man is extremely fortunate to be alive. Not many people can survive a spear through the head. However,had he not waited 10 hours to seek medical attention, doctors might have been able to save his sight in his left eye. People should learn from this and seek medical attention immediately," Stephanie Philpis, 56, of Oklahoma City, Oklahoma told YourJewishNews.com after learning about the fisherman.

He remains in the intensive care unit of the hospital, and now learned to seek medical attention the next time he manages to survive a near-fatal accident.